DEBATE
Think. Speak. Listen – A logical Pursuit of Dispute.
Registration for this contest has closed.
Registration deadline: 6th Oct 2021
Submission window: 1st September - 6th October 2021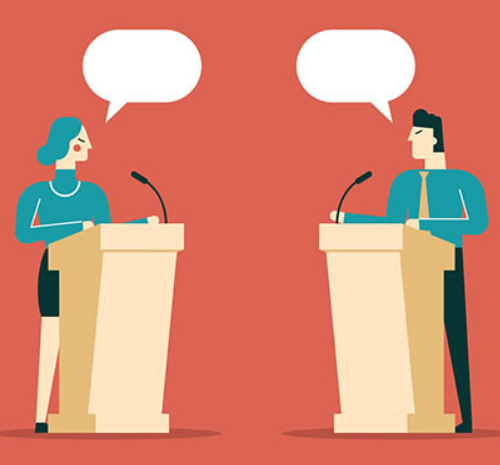 Participation
Preliminary Selection:
Submit 2 min video speaking for or against the given topic for shortlisting.
Jury selects top 32 contestants who advance to the final round
Finals:
Virtually on a popular video conferencing platform
Exact submission deadline and final event date will be communicated shortly
100% of your donation will be sent to the NGO!
Rules
Individual event
Preliminary round
Participants to record and upload a 2 mins long video speaking for/against on the topics given below:

OTT platforms requires Censorship.
Is population growth becoming liability of country?
Unpaid work :Women's Responsibility or economic activity?
Online education as a measure to decrese or increase educational inequality.

Participants will be judged based on articulation of facts, depth of research, relevancy to the topic. Note – Participants are expected to record the video with proper lighting and clear audio. Incase of unclear/bad audio/video quality, the participant could be disqualified.
Top 16 participants will move into the final round.
Final round
Shortlisted participants will be invited for to perform live before the jury in the finals through video conferencing platform.
Participants will get 3 mins to present their views and rebuttal.
Topics for the Final round will be provided 5 days prior to the final event
Participants will be judged based on depth of research, relevancy to the topic. organisation & clarity, use of arguments, presentation style.
Please note: Rules, regulations and other event details are subject to change.