POETRY
Here are the submissions from our participants
Entry by Deesha Chawda
K.K.Wagh Polytechnic Nashik (Nashik)
A kid within me sometimes shouts...
Gazing at the sky, waving at the clouds
A kid within me sometimes shouts
What a crazy trend got started ?
Humans love making pouts
Couldn't find the way towards my happiness
I won't navigate, let me take some help from the scouts
People today can't trust each other easily
They look at each other with a thousands of doubts
Who will teach some etiquettes to those in limelight ?
Hearing them is like listening to spouts
The scientific progress can't modify one's behavior
It's like building machines for the louts
Gazing at the sky, waving at the clouds
A kid within me sometimes shouts..
-- Deesha
Entry by Rakhshinda Akhtar
Bckv (Patna) Spot Submission
Discriminated
Reedhi is in doldrum
She doesn't understand
Why no one wants to play with her
Why no one sits beside her
Why no one shares lunch with her
Why no one invite her to birthdays
Why no one befriends her
She inquired her mother
Her puzzled and young mind didn't understand
The silence and tears in her mother's eye
Years passed , Reedhi is all grown up
And now she know the roots of her problem.
Entry by Aastha Harlalka
Oberoi International School, JVLR (Mumbai) Spot Submission
I dwell on the possibility
I dwell on the possibility
That the world will be rid of hostility,
Of malice, injustice and intolerable sins,
That all people will be one friendly kin.
I dwell on the possibility
That there will finally be liberty.
A day when we won't have to cover up in fear;
A day when we won't be blamed for our tears.
I dwell on the possibility
That humans will take responsibility,
And make a change, the choice to save;
Instead of extract, take and crave.
I dwell on the possibility
That we will finally see,
How petty we can be, how cruel we are;
That following childish prejudice will not take us far.
I dwell on the possibility
That we won't be shamed for our vulnerability,
But will be praised for our humanity and courage,
And even those who fail would be applauded and encouraged
I dwell on the possibility
That the suppressed will find the ability,
To scream their anger out, to make their voices heard,
And when they are, they will not be shunned for being "absurd."
I dwell on the possibility
That there will be peace and equality,
That one day we won't have to hide in shame,
And that we will be able to treat each other with dignity,
Like equals and as the same.
I dwell on the possibility
That my dreams of a better world will be a reality,
That they don't remain just possibilities;
So that the human species will reach their highest capabilities.
Entry by Ritika Kumari
Deshbandhu College, Delhi University (Daltonganj) Spot Submission
Uncanny Phoney
I? I'm a lil' child
And yes, I'm a boy
A boy of 20th century
Finding my life to be a mystery
She talked, teacher chided me
At home,turned to MAA
Why? Why?
Coz I'm a boy
MAA smiles,a shy
She, yes, she, came
As sunshine of joy
But soon,I am defiled
She, deems to be perfect
And me proved to be imperfect
I enter, world so revile
It calls me, harasser, abuser
Still, I fake a smile
I search for equality
And get chiseled in vanity
Here, where sensing is better
Intuition is worse
Being thinker is preferred
Yet, to feel deeper is insane
She says, "Don't Argue "
Or you will assert..
I fear, yes, I fear 'She'
You call me a cynic
Yes, you can, I'm
Coz, my life was not a scenic
Rape, destroyer of ' She '
Soon turned threat for ' Me'
Thought extroversion is bliss
Introversion , a dearth
Realised both are useless
I am eager to speak,
But words choked me,
' She ', speaks the world
Needs the world..
But don't I too deserve
Atleast ,a chance ?
No, Never , stand world
Yes, I was a lil' child
And yes,I was a boy
Just, a boy?
Entry by Suraj Ubarhande
Amravati University (Chikhli)
Be careful
Be careful of your thoughts
As your thoughts become your words
Be careful of your words
As your words become your action
Be careful of your action
As your action become your habits
Be careful of your habits
As your habits become your character
Be careful of your character
As your character become your destiny
By : Suraj ubarhande
Entry by Ramsha Siddiqui
National post graduate college lucknow (Barabanki)
Stereotype- a hunk of inequality.
Sitting on the bench, composed by the sound,
In the midst of a large crowd a boy was found.
Looking up and frequently bending his head down,
Trying to hide those tear marks from the people around.
Even in worst situation his smile is main,
The bigger the curve the more is his pain.
He fakes a smile and covers the truth with a lie,
To fit in a society which says 'boys don't cry'.
The loss he has suffered and those wounds he hide,
His ache and his fears are bound to be kept inside.
Boys are strong from birth he was taught,
Now to stand on these words with his emotions he has fought.
You are a boy, should be hard-headed and stoic he was told,
And now when he is done,you call him impassive and cold.
His eyes will tell you a story of thousands of sleepless nights,
Where he grappled with his thoughts and everytime lost the fight.
Caught in a dilemma, his eyes he daily wipes,
Yes he is another boy burdened by the society and its stereotypes.
Entry by Ashish Sharma
Pt. B.D. Sharma PGIMS (Rohtak)
वो खुश तो है ना
मुझसे थोड़ी दूर ही सही
पर वो खुश तो है ना,
महीनों में दिखती है उसकी झलक
वो अब भी वैसी ही है ना,
उस से फोन पर भी बात नहीं हो पाती
उसकी कॉलर ट्यून तो वहीं है ना,
चॉकलेट से भी करने लगी है परहेज
उसकी तबीयत तो ठीक है ना,
चूमते रहते हैं उसके गालों को बार बार
झुमकों की उस पर बुरी नजर तो नहीं है ना,
वो जो कहेगी सब वैसा ही होगा
उसे मुझ पर यकीन तो है ना,
भूल जाऊंगा उसे खुशी-खुशी
पर उस जैसी कोई दूसरी तो है ना,
मुझसे थोड़ी दूर ही सही
पर वो खुश तो है ना ।
Entry by Shreya Chatterjee
UEM (Kolkata )
The only wish
(The day when there is no war)
"The sun didn't rise that day
Maybe it, too, lacked the power
To spread around cheerful sunrays
In that gloomy hour..."
She recalled the dreadful day
With her eyes shut close.
When hatred overpowered humanity
And a brutal bloodshed arose.
The scars on her cheeks
And her body, which, looked so frail
Echoed an unheard symphony
Of a long forgotten tale.
"I rushed through the alleys
Firmly gripping my son's hand.
All we wanted was to flee
To some far away land.
There wasn't a morsel to eat
There was unimaginable horror everywhere
Dead bodies flooded the wrecked streets
As we looked on in despair...
Their soldiers destroyed our city
For our country had been deafeated
For a piece of icy, barren land
Our joys, we, forfeited.
As we almost reached the gate
I was numb, hearing the fire of a gun...
And that was the last time I saw
My beloved little son... "
"I don't remember what happened then
But it ruined and scarred my life.
For I did not live anymore...
I just survived in a struggling strife..."
"I miss my son dearly," she took a deep breath
"But I don't want him back...
For I can't bear the pain of losing him again
When there's another invasive attack..."
"I wish to see the sun rise," she dried her eyes.
"In lands without borders where no mother is robbed of her child. All that I wish for
Is the day when there is no war."
Entry by Aditi Agrawal
University institute of technology, rgpv (Bhopal )
Sab ka jeene ka
ek tareeka hota hai
tabhi har shaks
khuda ka Karishma hota hai
toheen to bando ka
banaya ek lafz hai
nhi to usne
kab kisi ke daman mein
sikka piroya hai.
ADITI
Entry by Shivam Mishra
G p k sultanpur (Sultanpur)
1 ). रहे आसमानों में उड़ते मगर , जमीं को हमने भुलाया नही ....
खुद की आंखो में भले हो आंसू हर पल,
मगर अपनी हरकतों से किसी को रुलाया नही ....
तुझे बनाना है तो बेशक बना ले लाख दूरियां हमसे...!
लेकिन प्यार करना तो मैने मां से सीखा है
नफरत करना तो मां ने सिखाया ही नहीं !!
2).
तेरे बिना ये चाय भी क्या अजब का सितम ढाती है,
कभी होठ जला देती है, तो कभी खुद ठंडी हो जाती है !!
3). मिलेगी मुझको मंजिल फिर भी कमी रहेगी!
दिल में तेरी चाहत और आंखो में नमी रहेगी।
मेरे पांव के नीचे भले रहे कांच और कांटे ,
पर तेरे क़दमों के नीचे फूलों की जमीं रहेगी!!
4).
गरीब, लाचार, भूखे पेटों की ये कैसी बेबसी है !
जिनकी हर रात अमावस और हर दिन एकादशी है!!
Entry by Samya Puranik
Mount Carmel College (Bangalore )
sticks and stones
tw: homophobia, bullying, suicide
a girl at school
beat me up and said,
"you have two mothers,
with one dead
you will still be well."
so i came home
crying to my mothers.
mother said
"sticks and stones
may break my bones
but words will
never hurt me".
in words.
then say,
why did those
words hurt me
more than words
ever have?
when i said
my mothers are
being laughed at ;
my mothers are
called things in class,
my teacher said
"sticks and stones
may break my bones
but words will
never break me"
in words.
then say,
why did those
words break me
more than words
ever have?
when i told him about
that man who
threatened to
touch me—
"your moms are gay,
aren't you too?"
"sticks and stones
may break my bones
but words will
never get to me"
said my best friend.
in words.
yet. they did hurt me.
these words hurt me.
these words broke me.
these word got to me.
these words brought
my neck closer to the noose.
these words brought
the blade closer to my wrist.
these words brought
the pills closer to my mouth.
the sticks and stones
may have been able
to break my bones
but the words caused
me permanent damage.
samya puranik
Entry by Neha A
Women's Christian college (Pammal)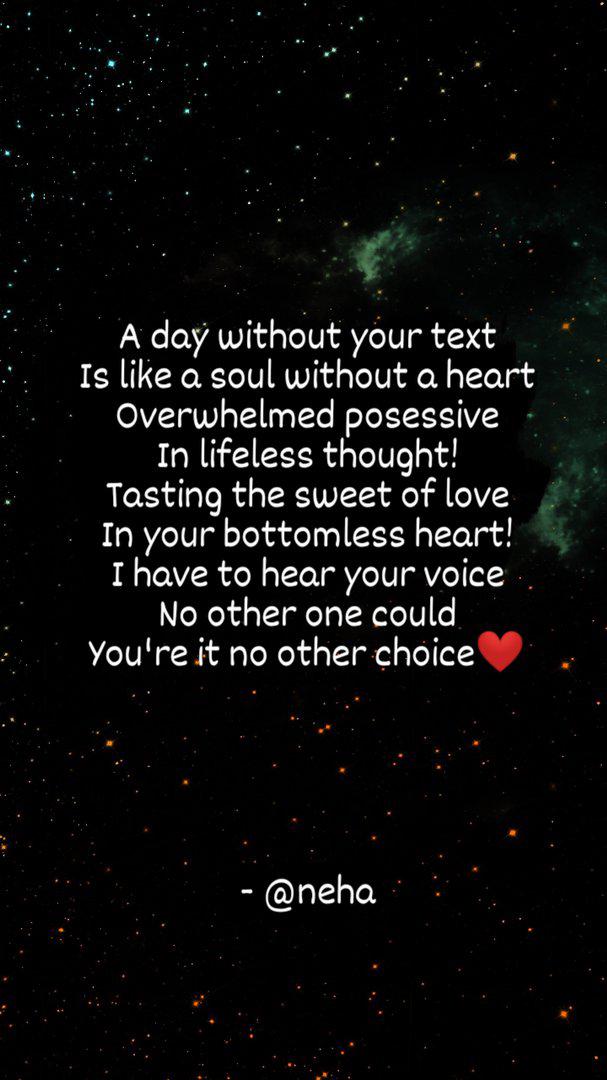 Entry by Ankita Meher
Prodigy Public School (Kharadi,Pune)
Go Ahead
-Ankita Meher
Ding dong bell our day begins,
Wake up in the morning and prepare ourselves,
A few drops of water make us fresh,
Then we are ready to go ahead.
Our garden is full of flowers and trees,
Helps us to make our surrounding clean,
The smell of jasmine flowers makes us awake,
Then we are ready to go ahead.
The morning glory makes us refreshed,
The birds are chirping from their nest,
We truly bond with them,
Then we are ready to go ahead.
One drop of dew looks like a diamond,
One drop of water makes an ocean,
As our journey starts from a little step,
Then we are ready to go ahead.
Morning to night every sight,
Nature's beauty is in every side,
The dense forest is the animals' home,
Then they are ready to go ahead.
We are all on our own journey,
So, let's get ready to give our best, really.
Entry by Uthaya B
Mohammed sathak dasthagir teacher training for education college (Ramanathapuram)
The world is so beauty
when seeing a smile in a kid in street,
Buying things from street vendor,
sharing our knowledge with others,.
Non judgemental listening of unknown person
caring smile when peering strangers...
Collection of things in stationary...
Our old may be new to someone...
The things we throw in trash may be
boon for some..
once thought and taught to little kids
Spending time God gifted child...
Sharing is the another way of caring...
We will move near the heaven...
The caring is the elevator in everyone life...
humanity is the key of kindness
kindness is nothing other than sharing love...
Entry by Sharanya Shetty
Manipal college of pharmaceutical sciences (Manipal )
One gloomy day..
On a bright sunny day,
Outside the medical room waited,
My father, my grandparents,
And my unattended older sister.
Prayers were chanted,
Offerings to God were done in the minds.
Not able to keep calm,
They paced the corridors,
Of the broken hospital.
My sister sat in the corner,
Pale and hungry,
Waiting for her brother to arrive.
She wanted a sister to play with,
But at home they were prepared to welcome a boy.
And then I was born.
My cries filled the labor room,
The sound reached the corridors
Putting a sly smile on their faces.
The cry is loud,
definitely a boy,
shouted my grandmother.
The doctor came out,
The anticipation on their faces clearly visible.
She said "Congratulations, It's a girl.
Both, the mother and the child are healthy."
But nobody seemed to care about the words she spoke.
My sister hid her happiness,
Amidst the disappointment that filled the corridor.
Curses were hurled,
The bright day turned into a gloomy one.
My mother knew,
That they would hate me,
Just like they hate my sister.
I was not allowed to enter home,
And my mother abused.
She finally decided to leave
To give her daughters they deserved.
Entry by Heena Thabasum
Government polytechnic college for women (Coimbatore)
Humanity and kindness
Be certain that you do not die.
Without having done
I have always depended
On the kindness of strangers.
Kind words can be short
And easy To speak
But their echoes
Are truly endless
Love and compassion
Are necessities ,not
Luxuries.without
Them humanity
Cannot survive
What simple profundities
What profound simplicities
To sit down among the tress
And breathe with them
In murmur brool and breeze .
My humanity is still alive
Within me.....
The greatest purpose of
Life is to serve the suffering
Humanity with love
And kindness.
I opened up a book
The title said"Description
of humanity
I took a closer look...
Well dawn no one here had
Any mutality.
I am not impressed by
Money, social status ,or job title.
I am impressed by the way someone
Treads other human beings.
A great man shows
His greatness by the way
He treats little men.
Wherever there is a human being,
There is an opportunity for kindness.
Entry by Shemeer P t
CET (Alappuzha)
The white rose
On a sacred eve, one moonlit winter;
I heard a whimper deep within my soul.
The heart of mine, struck by an arrow;
I tried to pull it but deeper it went.
Like a pen through a journal;
It wrote a sweet sonnet deep in mine soul.
My soul being an infant, untouched by the world.
Smiled in glee knowing first love.
Heart is all sacred, but it beats on its thoughts.
Like a child fascinated, I reached for that Rose;
Not knowing the thorns.
My heart bled at first ;
But my soul pained much more.
By that red ink I drew my sorrows;
Though its in canvas, I felt it in my bones.
If time could grant me one little wish;
An ale of oblivion I would ask.
My heart is of now stone, cold and cynic.
I learnt of a lesson, a message from life;
Roses for some but thorns for most.
Treacherous pluck but the kind bleed;
Only to feed the sands of time.
Entry by Khanak Gupta
Lakshmibai College (Delhi)
नारी सशक्तिकण
बरसो पहले से चलता आ रहा ये दौर,
अब भी स्त्री को नहीं मिली है हिस्सेदारी लेनी की मौहौर..!
कहना है मेरा, स्त्री को मिलना चाहिए आगे बड़ने का मौका,
इससे बह जाएगी पानी मे लड़की के साथ हुए भेद भाव की नौका..!
कर रही है कुछ लड़कियां देश का नाम रोशन,
कामना है मेरी, जल्दी से वह दिन आए जब हर लड़की के कामयाब होने पर बने जशन..!
बंद जाए हथकड़ियां उन हाथों पर जो आज भी लड़कियों पर लगा रहे है रोक टोक,
जिससे हर लड़की पूरे कर पाए अपने सारे शौक..!
ना जाने कब लड़कियां घूमेंगी बेखौफ और बेडर,
और इस बात का डंका पिट जाएगा डगर डगर..!
क्यू गांवों मे लड़कियों को पड़ने का नहीं है अधिकार,
ठाना है मैने, बनाना है पढ़ा लिखा के उन्हें ज़िम्मेदार.!
यही आशा है जल्दी से खत्म हो भेदभाव की ये दरार,
और हर स्त्री का सम्मान रहे बरकरार..!
By Khanak Gupta
Entry by Shivangi Agarwal
Prasanna School Of Public health (Manipal)
TOPIC- Social Injustice & inequality
Based on Aligarh movie, it is a poetic representation of late Dr. Ramchandra Siras having a conversation with Deepu Sebastian, the journalist who established a teacher-student relationship with the former. As he is no more, he explains his life for a book on LGBTQ+ rights and how things have changed since then.
WAS IT A SUICIDE OR A PLANNED DEATH?
Dr. Siras – As I look back at my life, so poetic and dime
But, I also lived a part of ignorance and crime
Deepu- Your honesty and love was too much for this political world
They invaded your privacy and chattered about their moral conduct
Dr. Siras- Things were different for a rural cage
Ignorance and social isolation were the mains
Humiliation on our identity and life were served
Can my feelings be woven into their three words?
Deepu- It was never your fault
You were chained by the stereotypes of all
Privacy and dignity was severely hampered
With your right to life of dignity being murdered
Dr. Siras- Loneliness crept at my later stage
I longed for warmth and love
We both met and lived above
How our sexual orientation has to do with our moral conduct
Deepu- LGBTQ+ has never been people interest
They are disowned, converted, and raped
For a problem that doesn't even exist.
Dr. Siras- What about the poor man
They end their life under the societal ban
Physical and mental issues came along
For just being different from all
Deepu- For the majority of people in rural areas
They are sexually exploited and consumed
With no sources of employment and livelihood
Dr. Siras- Even when it's unconstitutional to deprive us of the light
How could society call it their personal right?
I hope they live a life of dignity and respect
With bridging the gap between them!
I still doubt about my last breath
Was it a suicide or a planned death?
Entry by Jemi Pearce
Womens Christian College (Chennai)
WHEN MY PHONE SHOWED ME KINDNESS
She is rude
She has attitude
She rarely smiles
She ignores me often
In total, she lacks character
I thought.
I judged her
I told she doesn't know to respect
I'm elder than her
But she never called me "Akka"
I always think big love happens in small moments
It's time to prove it- today.
I lost my phone
She followed me to find it
I panicked
She consoled me
I ran
She ran with me
My heart troubled
She gave me hope
I found my phone
No, WE FOUND MY PHONE
Yeah! We found my phone and I found her kindness
I thanked her
She replied," it's okay, Akka".
I have attitude
I rarely smiled at her
I ignored her often
I lacked character
But her kindness found my rudeness, as well
Everyone is kind but sometimes it's hidden
For me, she is one of the kindest people – I knew in my Life.
Entry by Meenal Shirod
Psph (Udupi )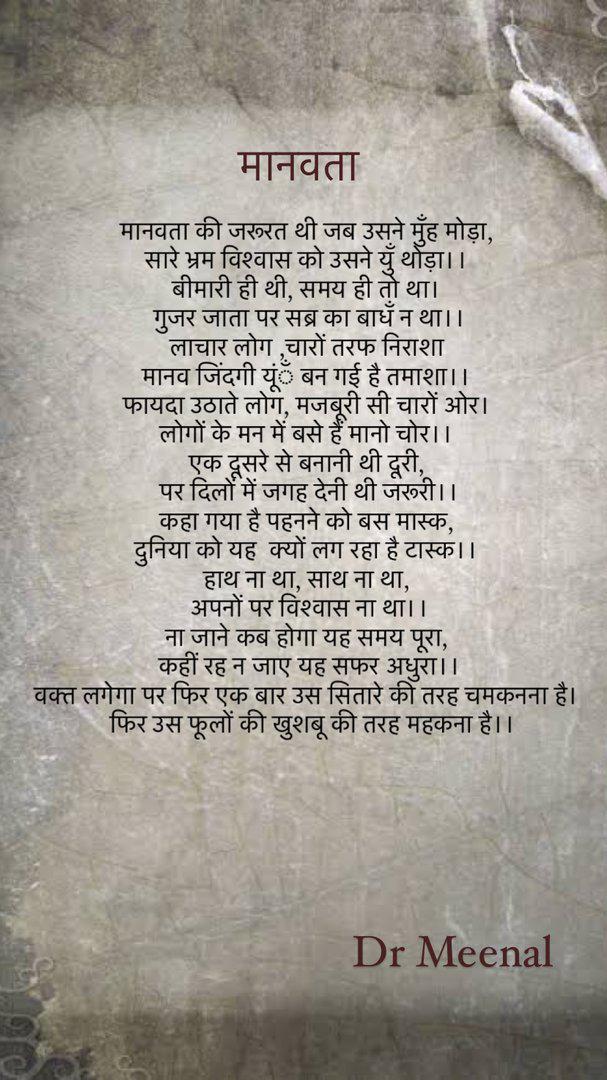 Entry by Dhruvee Patel
Nirma University (Ahmedabad )
Everyone wants to celebrate for every silly things,
But no one wants to talk about menstrual hygiene;
Its the thinking of our society!
No one can't see the blooded finger only,
But everyone can notice blood stain on her clothes only;
Its the thinking of our society!
Everyone wil do bulshit about her blood stained clothes,
But no one can call her to cover her clothes;
Its the thinking of our society!
Everyone will ready to pay some fine & break the rules of traffic,
But no one will ready to fight for her break the periods relatedmyths;
Its the thinking of our society!
Tobacco can selling openly,
But Senitory pad is selling in black polythene only;
Its the thinking of our society!
Lady has to be only live at home,
But in 5 days she can't survive normally in home;
Its the thinking of our society!
But we should overcome all of this things...
This should be the thinking of our humanity...
It should be the thinking of our humanity....
-Dhruvee Patel
Entry by Tausif Ahmed Sayed
AcSIR (Bijapur)
Submission under Social Injustice And Inequality
Sex Selection Drugs (Magic Pills)
By: Tausif Ahmed Sayed
She was carrying his love
Her womb was paining,
Yet she smiled and got excited,
Thinking about her husband's love
Her husband wanted a baby boy
But she was helpless and innocent
She was told to deliver a baby boy,
Otherwise, she has to face the consequences
She told, it is not under her control
Her in-laws bought some magic pills,
Forced her to take those magic pills
She refused but was left with no options
She took those magic pills,
Under the pressure of her in-laws
She took those magic pills,
Just to keep herself alive
She took and she got the pain,
She fainted and got some disease
She bore the pain and the torture,
However, she managed the situation
Yet she delivered a baby girl,
A baby girl who was very weak
A baby girl with some genetic disorders,
Who started fighting right from the birth
In-laws shouted and scolded her,
"You're unlucky and ill-omened"
That was the prize she received,
After delivering a baby girl
Whose mistake it was,
Those magic pills, or her womb
It is all about the genetic probability,
She has nothing to do with the gender
The doctor called her in-laws,
Explained the facts about magic pills
No pills can change the gender,
That baby girl got side effects
She was respected then onwards,
Baby girl cured and taken care of
She made her baby a social activist,
To raise awareness against those magic pills
Entry by BIDISHA BASU
INTTERNATIONAL INSTITUTE OF HOTEL MANAGEMENT (KOLKATA)
UNDER THE MOONLIGHT
Sitting under the moonlight,
Looking at my reflection in the river,
I saw the place where I was born.


The place where people are two-sided,
The place where people are heartless,
The land where humanity is lost.


I sighed,
As I realized how much I hated this place.
The place where innocent children are murdered,
The place where girls are buried alive at birth,
The place where shadows of cruelty exist.


Is there any place away from here,
Where there is no hatred, no enmity?
Is there a place I can go to,
Where everyone gets treated equally,
Where love rules their hearts?


I sat there
Lost in deep thought,
When a sudden noise behind me
Brought me back to reality.
As I saw people running about,
I realized tonight the moon would be a witness once again,
To the atrocities of humans.
Two lovers would be hanged together,
They had dared to love someone from a different religion.


I looked up at the moon and sighed.
Something so beautiful,
Had to look down upon a world,
Full of darkness and despair.


Yet I still had hope,
However tiny it might be.
I still believed that the world had a beautiful soul,
Buried deep within.
~ Bidisha Basu








Entry by Evangelin Saral
Shrimati Devkunvar Nanalal Bhatt Vaishnav College For Women (Chennai)
Worlds become one when we sleep
Boots on the ground
will not make sound.
Iron butterflies
Stop flying around.
Borders cannot be found
on this day.
Eyes of rules gound
Healing from wound
will come.
Ares hound
His lips wide from frowned.
These I saw
I realised I slept sound
dreams abound
opened my eyes
Waiting for to the day to come.
By
Evangelin Saral
Entry by prachi patil
AISSMS IOIT (PUNE)
From Emotions to Eroticism:-
A long way back, some uncountable years ago, there was a time that gave us a definition of pure love. But with time, the real distinction altered and now it has been extinct. We all have heard and know well about "Shiv-Parvati" & "Radha-Krishna", two of the greatest and purest love stories of all time.
Parvati Ji was strongly determined to marry Mahadev but Mahadev was not agreed to it. Even after the rejection, she did penance for more than lacs of years. Her this dedication was the thing that melted Mahadev and he finally married her.
Lord Krishna's wife is Rukmini but yet we call his name along with Radha only always. Throughout her entire life, she worshipped only one person whom she loved but never become his wife yet she never looked up to anyone and in the end, she got absorbed in Krishna and remained his forever.
These two forever love stories tell us how one can wait for a particular person for that many years, how one can be dedicated towards a single person only forever. Both these love stories are filled with emotional touches, dedication, waiting, purity, modesty, loyalty, penance and etc etc etc...
There are some stories too where two people fall apart, failed to meet but remain alive in the heart of everyone and become the examples of pure and true love. Romio-Juliete, Laila-Majnu, Heer-Ranjha, Soni-Mahiwal and many more. Their love is still alive in the heart of those who have loved someone madly.
What nowadays then? All these stories and bondings have remained just stories. Now, in maximum cases, it's not loyalty and honesty that one looks for in others. What they look up to is external beauty. They no way cares about feelings and all, what they want is just a "one-night stand" with various. At a time, the amount of devotion of one for another was the costliest and precious thing and it has been replaced by the amount of money. The size that mattered most at that time was of heart and loyalty, but now it is of private parts of both the people. Dedication is still there but not in the heart but in each other's bodies. The most important thing now is the duration of sexual survival of one on the bed. The longer the survival is, the longer the loyalty is, the shorter the survival is, loyalty is nil.
Yes, it's completely agreeable that no one has the right to question anyone on how they define love. The personal life and decisions of whatever they do must be personal and no one can interfere with that but it is also agreeable that love is no more the same as it was some uncountable years ago. Its definition varies and changes with the people's way of thinking about it.
Entry by Kalyani S
Sree Narayana Institute Of Medical Science (Kochi)
DIVINE DRIZZLE
The enormous fiery bounty shines so fine
Overthrown by the smoky embellishment
Field and farms turn so dark
Silencing the hustle of infantile
The gait of zephyr triggers the poet
Like the monarch of romance
Trees bow with high honour
the emerald green fields
reveres the mild blow
The amicable amphibian cries aloud-the call for rain
as the prime drop descends to the
heart as hearth of earth and man
Triggering the dead spirits
Rejuvenating the life within
Sprouting the seeds of nostalgia
Gathers the man to his juvenile moments
When he relished so deep.
Years elapsed;days fallen by
The heart of his sees the
wild play of nature's plenty
through the oriel of his room
in he spends his delirious days
like a lamented lamp
engrossed in a claustrophobic life
The war done way too much
But O' Lord his mighty mind
still embedded in the hands of youth
enjoys the embellishment-RAIN
To fill his content
Lives so young in his deep inside
The once a warrior inside
For everyone who left me alone
Thanking lord that still he could
enjoy the drizzling downpour and
feel the beautification of
MY BELOVED WORLD
"Flowers of gratitude,my Jesus
B'cause you gifted my room with an oriel."
-KALYANI SANTHOSH
Entry by Pragati Khanna
Symbiosis Medical College for Women (Pune)
Dreamland
- Pragati Khanna
Where curiosity fuels ambition
Where questions wrestle fate
Where peace is the mission
Where love triumphs over hate
Where the mind doesn't think twice
Before doing what is right
Where all men are pretty wise
And hold onto their promises tight
Where everybody is a free bird
Where everybody keeps their word
Where sad and gloom don't have a room
Where happiness and joy blooms
This is where I want to be
Where all good things are wild and free.
Entry by Priyanka Kadam
Pune University (Pune)
मानवता
मैं सपना देखती हूं, एक ऐसे स्वर्ग का...
जहा कोई द्वेष नहीं
कोई मोह - माया नही
कोई पाप फरेब नही
कोई विषमता नही
मैं सपना देखती हू की
ये पूरा संसार डूब जाए प्यार के अखंड सागर में
नफरत की बूंद भी ना गिरे
बस सब चाहे एक दूसरे की मुस्कुराहटे
मैं सपना देखती हूं...
ना सोए कोई जीव खाली पेट
और न तरसे जल की एक बूंद के लिए
जाड़े की रात में ठिठुरते तन मेरे मन को जलाते है
क्यो न हम सब मिलकर उनको अपना घर दिला दे
मैं सपना देखती हूं...
क्यू कोई नाले के पास झोपड़ी में रहता है
और कोई हवाई महल में...
क्यों ना हम मिल- जुलकर मिट्टी पर ही रहे
मैं सपना देखती हूं...
बस की खिड़की पे भीख मांगते सुर्खियों वाले हात,
और सिग्नल पे गजरा बेचने वाली बरबाद हो रही नन्ही जिंदगीया,
मेरे आंखों और मस्तिष्क को सुन्न कर देते है
क्यू ना धन को सबमें बांट दे हम
मैं सोचती हूं...
मैं क्यूं सिर्फ सपना ही देखती हूं,
क्या मनुष्य स्वार्थी हो रहा है... या हो गया है
क्यों बटे है हम धर्म और जाती के नाम पे
क्यों ना धरती पर एक ही धर्म रह जाए,वह कर्म का है
वह मानवता है...
Entry by Neha Reddy
Kasturba medical college Manipal (Manipal )
Phénix de ses cendres
The world is burning to ashes,
All that can be seen are clashes.
Flecks of dirt cloud your eyes,
Or so you say to escape the lies.
Lies that your world is built upon,
Lies that have brought you to your crown.
But that crown is only yours to see
What about the millions trying to flee.
The crown shines with its true worth,
If only it's placed on a worthy soul;
Not one whose antics are foul to the core.
No phoenix will rise this time,
From the ashes that aren't even worth a dime.
~ Neha
Entry by Gigi Jose
The Institute of Chartered Accountants of India (Kerala)
Dream
Dream like you will never die .
Past proved that dreams
can even hold a weak life live
The magical power of dreams comes from the eternal source.
Rather than man building a dream,Dreams are building a man
Dreams aren't earthly
Hence it expresses unimaginable things . Dreams aren't manual,
Hence it seems to be unbelievable...
Dream, Dream, Dream
Never say Dreams are just Dreams, But it is tomorrow's reality.
It can be tomorrows History ,
if it is so determined, powerful and strong
For the rich, poors are still a question mark?
Rich asks... How can a person live like that?
But Poors are holded by their Dreams.
Poors are richer than the rich in their dreams..
All the amazing humanmade wonders were
at first a dream..a dream which they believed... one day definitely it will come true:
Hence it is now Fabulous.
Entry by Martin Lalpekhlua Blah
St. Anthony's College (Shillong)
Topic- Humanity and Kindness
Reverie
The man sipping black coffee with languor
mindlessly reads volumes of Kant
whilst forgoing his sanguine mother
fixates on lucrative deeds alone
The forlorn lover with light green tea
numbs her pain with superficiality
desperately clings to the hope of
a delirium search for her one true one
The cynical man in his dark dusty room
chugging his third can of kingfisher
comments on every thread online
excuses his way going forth life
The revolutionary lives with his parents
ploughs through pages of Bakunin with wine
torpid to do any real true work but
speaks of communism, bourgeois and inequality
The prole tills by the granary
Has no wine nor lover, no Darwin
nor Karl Marx, but is sate as
the child he helped thanked him that day
Entry by Sameer Ranjan Sarmah
Gauhati Commerce College (Jorhat)
This place was once God's pious station.
Humanity is the song we sing to him.
The leaves praise him with a peaceful African breeze, the breeze of our God.
The children of our mother earth were not left out of the feeling that planted oneness in the minds of the *******. Stone, that was what their minds were known for.
Life was then a simple sphere but now complicated and shapeless.
Life was then soft like an unwithered breast but now a
granite. Then hearts were glaring but now, Africa and their black hearts.
See them,
They are crucifying humanity in the house of our God.
They are crucifying humanity in the court of law.
They are crucifying humanity on the matrimonial beds.
They are crucifying humanity on the aisle of power.
They are crucifying humanity for legal tenders.
They are crucifying humanity to be a god.
They are crucifying humanity in the struggle of religion.
They are crucifying humanity to calm the raging stomach.
They are crucifying humanity for thrones.
They are crucifying humanity in front of humanity.
They are crucifying humanity everywhere.
Now humanity is on the verge of death.
See them as they are whipping him.
See his skin as it swells to burst.
They are punching him, they want to punch him to
death.
Can you see those barbarians as they merry with the melody of crucifixion? Humanity is their scapegoat.
Humanity is dead in theirs
but it is still alive in your heart,
It is still alive in your words.
Humanity must be alive in our home.
Entry by Arushi Khare
SOIT, UIT RGPV , BHOPAL (BHOPAL)
JUST KEEP BREATHING .....
Love and healing
To all the beautiful souls breathing
Solutions to our problems, we're searching
Forever seeking meaning
Our pains, never ending
But lets keep believing
One day we'll be smiling
Biding adieu to our sufferings
Till then just keep breathing !
Till then just keep breathing !
Entry by Della Dixon
Vimala college (Thrissur)
BLOOM
Broken and mangled pieces of the past
Dark and smoky smells of the air
Now I see.. there was a mast
All of those happenings weren't fair.
Screeching of the voices has ended
All those remains have faded
Couldn't find my abode of comfort
And I do not seek those days anymore.
Bloody hands bit me adieu
Held me close and later loose.
Red blossoms are growing bright
Blooming right in my heart.
Lost in the thoughts
Washing those harrowing images
Striding on the red earth, I believe that
Days of hatred belong to the past.
Entry by Jill Shah
Symbiosis Institute of Health Science (Ahmedabad )
Environment and I
World is almighty
But we are not !!
We are safe in this beauty ?
But Mother Earth is not !!
Dumped of such negativity ….
Never towards ray of hope !!
Why are we so much intrinsic ?
Always being dramatic and so fake !!
These beautiful mountains,
Giving us warmth and good breeze...
These forests gives us peace...
These noisy river ,
Soothe ears !!
But why don't we care of this peer ?
Earth has given us birth ..
Now our time to rejuvenate mother earth !!
Poetry by • Jill शाह •
Entry by Vijayashree Ramganesh
Stella Maris College (Chennai )
NOW ALL I WANT IS YOU!
- Vijayashree Ramganesh
[ This poem is from the Mother Earth's perspective....This poem is a conversation between Mother Earth and Peace. She tells about all the blues and woes she undergoes and wants peace to be with her!! ]
Fever dream high in the quick of the oiche;
Slowly dying; peace no longer found!
Chaos and kalon intertwined;
Would it be enough if you never give me surseance?
Atol amour propre;
Kalopsia of saoirse and suaimhneas;
Louring with paranoia!
Maybe you're a lacuna of the
book named "Life"!?
Throes of battle maundering through;
Boon and bane in tandem!
Feigning smiles with fortitude!?
Nostalgia for the future;
Folks playing God!!
Hedonistic people; fey lives!
Colliding minds; building arts;
It's the vertigo of freedom!
Blew things out of proportion;
And now Serenity's my Vendetta!!??
Beatitude bestowed upon;
With hypocrites and ultracrepidarians!
They say the end is near;
But we can patch it up good;
Making confessions and begging forgiveness!!
Running through rosethorns;
Help me hold on to you!
All the king's horses; all the king's men,
Couldn't put me together again!
Eirene in arcane aisling!?
Time turning flames to embers!
Oh what a shame!
Nothing's gonna save them from the fallout;
Left themselves in their war path;
Lost their balance on a tightrope;
Lost their mind; tryna get it back!
They say, "Amor vincit omnia
in perpetuum et unum diem"
Could've followed my fears!
Go gone Sacre Bleu of tranquility!
Still tryna get you!!
Before I learned civility I used to
scream ferociously anytime I wanted!!
Took their words for what they are;
a dwindling mercurial high, a drug but only
worked in first few hundred years!
Look at this forsaken idiot they made me!
Beleaguered; dreaming of seraphic epiphany!
Now I breathe flames each time I talk;
My cannons firing at their yacht!
Never had the convictions as long as danger is near!?
People are people and sometimes it doesn't work out!
In my defense I have none!
They gather; line up: weeping in a sunlit room
Begging for peace!!
And I get mystified by how cities scream your name!
And I'm so terrified of if you ever walk away!
I know heaven's a draiocht!
Hell is when I fight with you!!
Sacred new beginnings;
Religion's in your lips;
Even if it's a false God;
Now all I want is you,
"My dear, Peace"
Entry by Sayantani Ghosh
St. Xavier's College (Kolkata)
_A Box Of Love_
Warning : "Injurious to Health"
I wish love came at my doorstep
wrapped in a box,
displaying a warning: 'injurious to health'
just like a packet of cigarettes,
causing a disease that is curable,
just like cancer.
So that I would have been previously aware,
of the hazardous consequences
of unwrapping the box,
leading to an explosion;
Of the pains to be endured,
of the heartbreaks to be sustained,
of the memories to be engulfed.
An explosion,
that can burn one to ashes,
leaving behind fragments.
I wish love had cautioned me against
the repercussions of loving
and how the consumption of love,
can be so utterly destructive.
So that I would have been
awakened to the consciousness,
of how falling in love is equivalent to puffing a cigarette.
Either of it kills you in the end.
Entry by Vidhi S
Banaras Hindu University (Varanasi)
Humanity- our long lost legacy.
Less than a million years from now, came on Earth an extraordinary race
Coined the Homo sapiens, with unparalleled wisdom and grace
Ne'er had there been anyone like us, we had been created for a reason
How come we lose our path, to cruelty, bloodshed and treason
You call it 'humanity', look what humans have done
Destroyed the planet, your hands stained with your own blood
How come you don't shake, cutting down trees that give you life
The girl you laid hands on, was someone's daughter, someone's wife
We were created as one, you divided us into religion, caste and creed
So how shall you deny this, the history's witness of your demonic deeds
You abandon them, the hands that raise you
Forgotten to be a human, look there's someone to teach you!
Dated June 2005 in Ethiopia, three lions save a girl from kidnappers
In 2012, Oxford, Ohio, deer chases away woman's attackers
Sea lion saves a Californian man, who jumped off the Golden Gate Bridge
In New Zealand, dolphins protect snorkeler from a big shark fish
Toddler who fell into an enclosure in Illinois, saved by a gorilla
Rabbit thumps owner's chest in UK, to rescue him from diabetic coma
Yet we call them 'wild', such a shame on us!
Where massacres are called 'humans', a world full of curse
She was a human too, Mother Teresa- the pioneer of peace
Charity, compassion, kindness, powers we need to unleash
And hew out of mountain of despair, a stone of hope
For the rising death, disease and destruction, we can no longer cope
And once we have set out, there's no turning around
As there comes light, only after darkness surrounds.
Entry by CHEATAN KHALAADKAR
GARWARE COLLEGE OF COMMERCE (PUNE)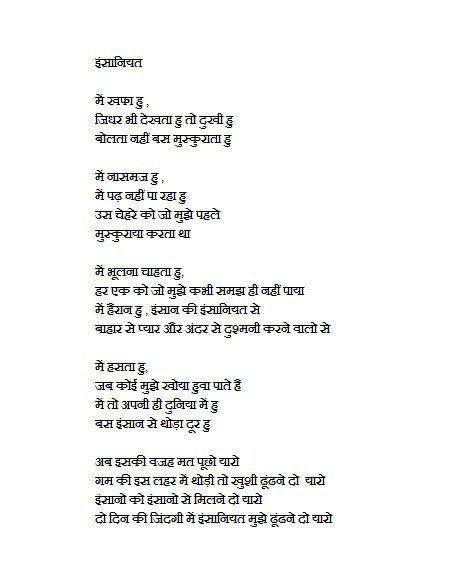 Entry by Pankaj Kumar S S
Govt. Medical College Thiruvananthapuram (Thiruvananthapuram)
Social Injustice and Inequality
THE LESS MIGHTIER
By Pankaj Kumar S S
The realm of mighty humans
Surrendered to a virus
And the world shut down.
The mightier ones panicked
Hoarded all they could.
They made coffees so fancy
Baked cakes so tasty
And trended all in tags.
In comfort, they relaxed.
Outside the world of trends, in
The outskirts of this classy realm
Dwells the less mightier,
Or what might they have
Except to hold on to their lives.
Their world did not stop
But became doomed.
They peddled to their roots
As the mirage of cities
Failed to feed them now.
Struck by hunger they moved
Some fell, some left forever.
They had no comfort
Neither any secure homes.
No savings to rely upon.
The world did shut it's eyes as they
Silently crawled by the boundaries.
Entry by Fatema Lokhandwala
Stella Maris College (Chennai)
Reflections
Ask yourself,
While you stand staring at your reflection
What do you see?
Do you stare back at the wrongs you have done,
Or the rights you claim
You keep justifying all that you did.
Because,
When she acts that way
She is bad tempered,
But when you do, it's nerves.
When she is set in her ways
She is obstinate
But when you are, it's firmness.
When she doesn't like your friend
She is prejudiced
But when you don't like her's, you are a better judge of character.
When she spends her money
She is a spendthrift
But when you do it, you are generous.
When she dresses well
She's putting on airs
But when you do it, it's class.
When she says what she thinks
She is spiteful
But when you do it, you are being frank.
She acts a certain way,
Dresses as she pleases
And wears her heart on her sleeve,
Yes she makes mistakes, falls and gets up on her own
She battles with her fears and hides her scars
She has a mask for every morning she wakes
But all you see is the hollow shell that you are
Filled with nothing but preconceived notions of what she
Should be, can be and must be.
Look through the mirror again,
And ask yourself
Ask again,
What do you see?
Entry by Parvathy Gopal
Cet school of management (Thiruvananthapuram )
Entry by Nandhini P
PSGR KIRSHNAMAL COLLEGE FOR WOMEN (COIMBATORE)